Sandy Ganz EZ125 Amps in Painted Chassis
by Sandy Ganz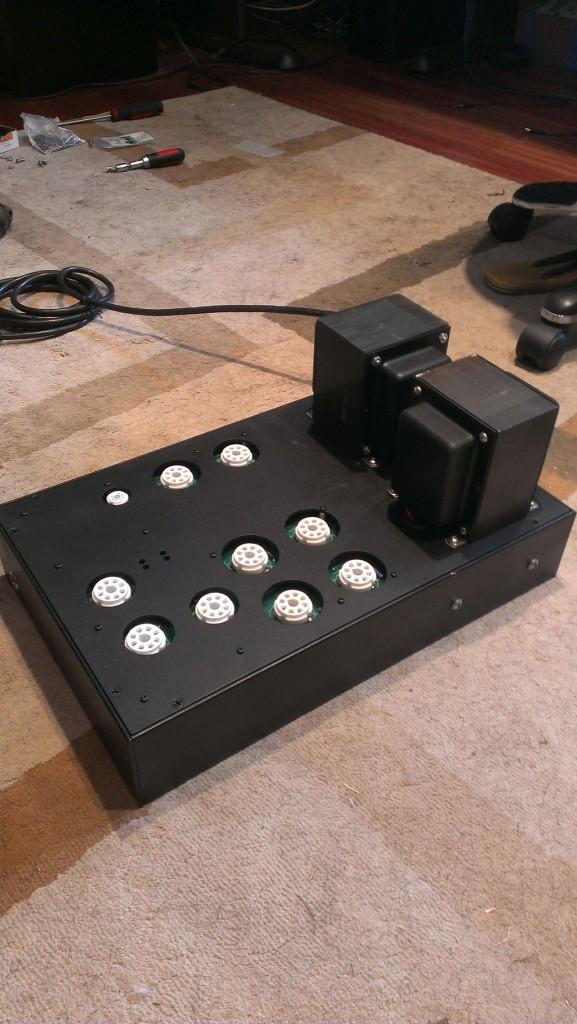 Sandy decided to paint his chassis so asked for undersized lids to allow room for the paint between the lids and the chassis sides. We made the lids in two sizes, one with 20 thousandths gap around all sides and one with 40 thousandths around all sides. Here are Sandy's comments on the fit of the pieces when painted. Good notes to keep in mind if you decide to paint your chassis. Overall chassis dimension are 3.25" x 11" x 17".
"Hey David, just finishing up the amps. The 40 was a bit loose, I think more like 10-20 would be fine. I have to put another coat on since I have been getting scratches from the rough handling as I assemble it but I think 10-20 would be enough.
See the link below to see the ongoing photo gallery. I have only pictures up so far for this project.
If you scroll through the pictures you can see the gaps on the top and bottom. The top is the 40 and the bottom is the 20. I actually don't mind the gap, breaks up the look a bit. And you might see where I botch up a couple of the tube holes by not center punching before drilling... The nice thing is that if I really messed up I would only have to replace one panel!
I really like the case, way better then the prototype I made …that was not liking the weight of the heavy transformers. "
EZ125 Project Page: http://www.ez260.com/2013/11/13/ez125-125-watt-quad-kt88-amplifier/
More: http://www.ez260.com/portfolio-items/ez125-amplifier-project-gallery/